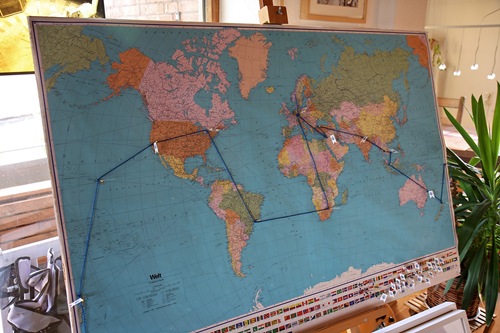 Currently there's a big map of the world in my living room. A piece of string is pinned on it from side to side forming some zig zags over the continents. Some countries are marked with small flags.
Well, looks like a route, doesn't it?
Indeed it's nothing less than the planned route of a trip I'm about to start in a few days on Monday, September 08th.
It will take me unbelievable six months to surround this cosy little planet completely.
Somehow I wasn't able yet to realize what a big thing this journey will be.
Although I'm a bit scared right now I'm sure that it will widen my horizon a lot with thousands of glimpses into the unknown, hundreds of new people, a huge pile of new smells, colors I haven't seen so far and probably some smaller or bigger changes in my mindset.

Right now I'm in the last phase of preparations and my arm has a little plaster on it from the injection against rabies this morning.

I'll try to use this blog to keep you posted over the next months - as long as there are Internet cafés in Ho Chi Min City.