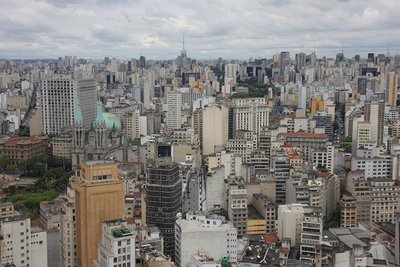 It is amazing how simple it is to jump from one continent to another. Eleven hours on the plane and it was not Africa any longer but South America. Please don't mention the ozone layer because I feel guilty.
My stopover in South America is Brazil and I landed in Sao Paulo.
Although I knew that it's a big city I was very impressed and scared by its size.
From the top of a scryscraper one could see hundreds and hundreds of high apartment buildings. Almost the whole skyline consisted of apartment scryscrapers. It looked so completely different to other scylines like e.g. New York.
Actually it is quite obvious because there are 12 million people living in Sao Paulo and they need a place to stay and most of the places looked very humble and ugly.

The chapters in the Lonely Planet books for South Africa and Brazil about dangerous cities sounded very similar for Johannesburg and Sao Paulo. Actually it was very different to stroll through both cities, though. In Jo'burg the rich and the poor were very well divided into fenced luxury compounds for the ones with light skin and very poor townships for the ones with dark skin. In Sao Paulo the rich and poor are mixed. I saw very poor Favelas right next to the shiny headquarters of big companies.
It was new and confusing to me seeing street kids for the first time. The were just living on the pavement on their own without anything and some of them were not older than 6 or 7 years. Life is really unfair to gift one (like me) with the luck of being born in a rich environment and refusing the kid in Sao Paulo the very basic needs.
The city was by far too brutal for me and I fled after one day to the small city of Foz do Iguazu ('only' 700.000 inhabitants).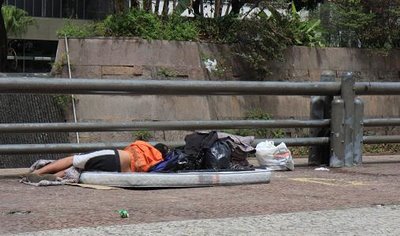 Oh, I almost forgot to mention that only very few people speak English here and I don't speak a word Portuguese. Not even in the hotel guys in Sao Paulo spoke English. At least I could re-use the few pieces of spanish that are still in my head. It sounds a bit similar to Portuguese and ensured that I booked the bus tickets for the right date.