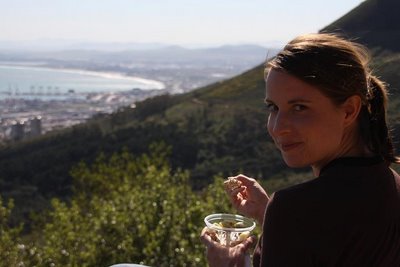 The location can turn a simple meal into something very special.
A breakfast in hurry before you leave to work is better than nothing. A breakfast in a nice restaurant is much better.
A breakfast with fresh deli food from that nice restaurant enjoyed outdoors halfway up the Table Mountain in Capetown with a stunning view, sunbeams in your muesli and fresh air is the best possible option.
That mountain really fascinated me. Very very steep with a very very flat top and very near to two oceans.
It will be hard to find a better place in the next years and almost impossible to find better company.