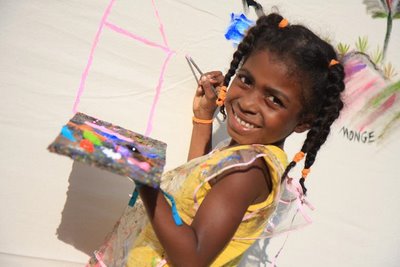 Today I stumbled into an arts project of a local painter in the city of Salvador. The artist prepared a very big screen and invited the people of Salvador to paint something on it. He does it in several cities in Brazil and afterwards there will be a sort of exhibition in a museum.
After my talk with him he invited me to draw something, too.
Because of my former colleague Volker I am able to draw one face from the Simpsons TV-show: Captain Horatio McAllister. Volker forced the whole team to practise painting this face and, well, everyone did.
Volker, this McAllister in Brazil is especially for you and if he makes it into an museum it just because of you.
What I liked even more than painting was the little Brazilian girl next to me. She worked very concentrated but liked to pose in front of my camera.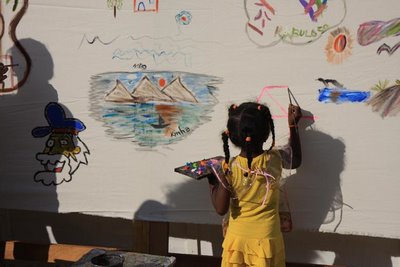 Do you see my pirate captain?