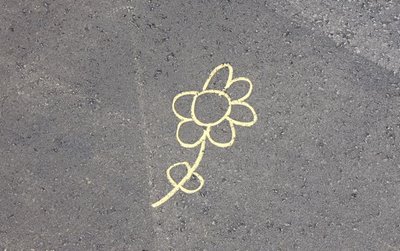 Imagine a few people standing in Toronto at the waterfront waiting for the ferry boat to a little island in Lake Ontario. One of them is an old lady. She is constantly moaning and seems to be very grumpy. A tourist stands nearby.
Old Lady

:
The ferry boat is late again.
Tourist
: So we can at least enjoy the nice view to the island a little longer.
Old Lady
:
But look at all the ugly condos-buildings near the water. They
destroyed
the whole waterfront.
Tourist
: I think it is still nice.
Old Lady
: They also removed the benches here at the ferry terminal. Seniors like me have to sit.
Tourist
: Do you see the boat over there? I guess it is our ferry. Only a few more minutes.
Old Lady
: Some time ago the whole place was full of flowers. Now it is only concrete and asphalt.
Tourist
: So you would like to have flowers here?
Old Lady
: Of course. Look how ugly it is without flowers.
Tourist
:
Ok
, give me a minute.
[Tourist knees down and

draws

something on the floor with a piece of chalk]
Old Lady
: What are you doing?
Tourist
: Be patient.
[Tourist stands up]
Old Lady
: Oh, you painted me a flower. That's nice. A chalk flower.
[Old Lady forgets to be grumpy and starts smiling]
Tourist
: Do you think the place is less ugly, now?
Old Lady
: Yes, I do think it is a little nicer now. By the way, I am Gina. I go to the island several times a week to feed two horses and a donkey in a little park. Do you want to join me?
Tourist
: Of course, I want to. My name is [...]. Nice to meet you.
[The old Lady and the tourist enter the ferry boat and the pavement flower hopefully stays there until the next rain]
.