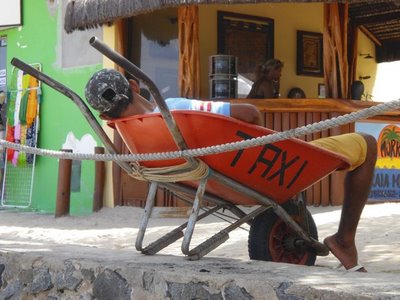 When a pushy taxi driver runs after you because he wants to convince you that his car is the only taxi in the world it isn't that spectacular in a country like Brazil.
If the guy pushes a wheelbarrow with the word 'TAXI' on it maybe it is a little bit special - at least it was for me.
I spent a few days on the little island called Morro de Sao Paulo in Brazil.
On the island there are no cars or streets but only sandy paths. Therefore all goods were carried with donkeys or with wheelbarrow taxis.
Whether I was responsibly for his little nap because I preferred to carry my backpack on my own instead of using his service is beyond my knowledge.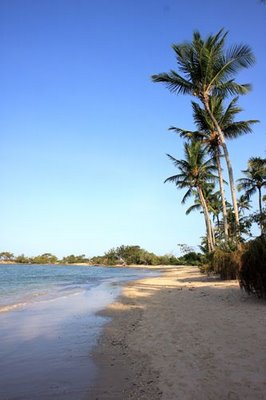 Although the island is very touristy I loved the fact that there's beach everywhere and you simply lie down wherever you feel like it.
Sleeping in the sand, reading, sipping coconuts and watching some muscular guys practising Capoeira on the beach were pretty much all activities I did during my days on Morro.
As far as I remember I never went to a beach party before and although my attempts of dancing barefoot in the sand were ridiculous compared with the Brazilian guys (yes, you're right my dancing es even ridiculous compared to a centipede trying to grind a cigarette) I enjoyed chatting next to the dark water with some Brazilian music in the background and an (non-alcoholic) cocktail in front of me.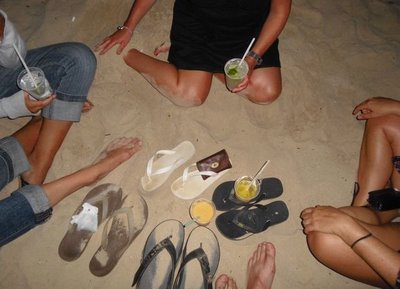 The painting on a shop window was claiming that I am on 40%. Hmm, 40% of what?
I had only days with more than 90% on Morro de Sao Paulo.
Ok ok, I am talking crap. The painting was announcing a sale with "TUDO 40%" and I was shooting only a part of the window. Is this really cheating? Probably it's the same if you take a photo of a beautiful beach without the ugly German tourists at the edge, isn't it?