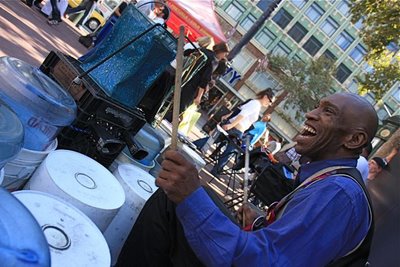 I am travelling alone this time and I was scared in the beginning about that.
Will I feel depressed all the time?
Will the 150 evenings summarize to a huge pile of loneliness?
Am I an awful pal to accompany myself?
I tell you what: The answer is 'No', 'No' and 'No' so far and I am a bit surprised about that.
The guy on the photo helped me a tiny little bit to realize the answers.
He called himself 'Bucket Man' and he was a street musician I met in San Francisco.
Bucket Man was a percussion genius and his drum kit consisted only of empty plastic buckets.
I strolled Market Street and all of a sudden I was surrounded by noise that shaked my butt - and my inside.
The noise his drum sticks created was mixed with an incredible laughter. Bucket Man laughed like a maniac while playing his 'instruments'.
No one was paying attention to him and he wasn't paying attention to anyone. He was just drumming and laughing. Bucket Man was all that Bucket Man needed to laugh.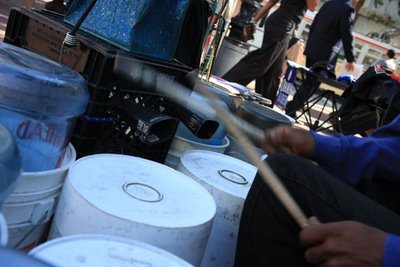 During his next break I had a nice talk with him and he told me that his very first CD will be available next week and how proud he is about it.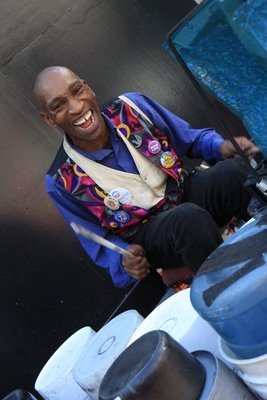 I saw few people in my life that looked so happy while being on their own or showing so much passion for life.
This crazy bald guy gave me a little hint that as long as I can laugh about and with myself I don't have to fear any pile of loneliness.
Of course it doesn't work all the time and that's good.
I am not as good as Bucket Man yet when it comes to laughing while being alone but I'm already damn good in grinning.