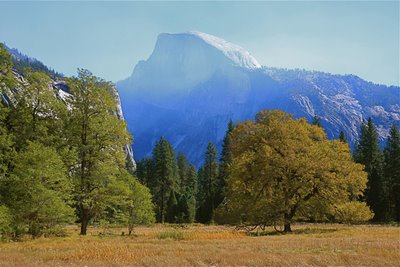 Half Dome (click to enlarge)
Achieving lifetime goals is a delicate thing because it might turn out that the actual goal isn't that spectacular as you might have imagined.
A 'goal' is not necessarily a 'big' thing like founding a family or get the high paid job but sometimes only just visiting a special place.
I dreamed many years of being to Yosemite Valley in California. I wanted to see the famous rocks like El Capitan or Half Dome with my own eyes. I adore the photography pioneer
Ansel Adams
and his fantastic captures from Yosemite made me wanting to see the valley even more.
I was a bit scared that it would be like 'Been there, done that, what's next'. Well, it was quite the opposite.
As I write these lines I can still exactly remember how I felt when driving into the valley with the public bus in the early morning. With me was a guy from Italy that I met the day before. The bus driver was a woman with a sticker saying 'Fast Girl' beside her steering wheel. Luckily she was driving slow though so I had the chance to soak up every second.
We were driving through forest and suddenly I saw some rocks behind the trees. Actually it was a massive wall. I bent down while looking out the window to get a glimpse of the upper end of the wall but I couldn't. Stefano beside me said 'This must be El Capitan' and he was right. It was funny to realize that he lowered his voice. Obviously he was as stunned as I was.
Seeing this rock rising up just vertical for nearly 1 km (3000 ft) made me have goose flesh. The morning sun helped making it perfect by illuminating the rock turning it into the color of the wax of an lit candle. Life can be really kitschy and I loved it.
The whole valley seemed to air calmness and peace and it captured me immediately. The meadows on the valley ground, the trees just turning into a yellow color and the warm autumn sun made my internal battery recharge with full power.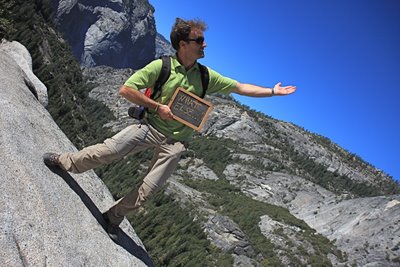 Stefano: 'What Else?"
Yosemite is a very popular national park and full of tourists during spring and summer. Because it was already autumn the valley was almost empty and I was on my own most of the time. Just the valley, myself and my thoughts that I allowed to meander around in my head without barriers - great.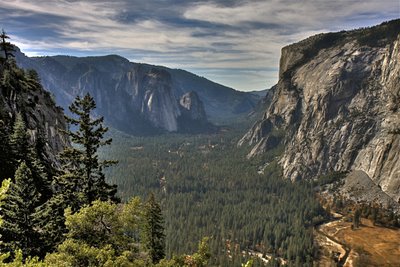 El Capitan on the right side (click to enlarge)
During the next three days I hiked in Yosemite exploring some of the peaks or having lunch on top of a dried waterfall accompanied only by some ravens. Being on my own made the experience even more valuable.
On my last day I had some cream on this big peace of 'life-cake'. After I crawled through the forest to touch the base of El Capitan I found a meadow just in front of the famous climbing route called 'The Nose' and tightened the slackline I bought in Toronto between two huge trees.
While trying to walk on the slackline facing this massive wall I was like '
Udo are you aware that you are just slacklining in front of El Capitan in Yosemite?
'
Well, I was very aware of it and it dug deep into my mind.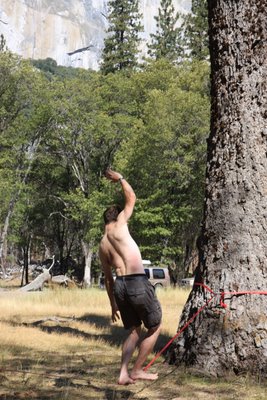 Slacklining Tourist
In the end my time in Yosemite was not as good as I expected - it was better, much better.
To make an already perfect time even better I stayed in a very cosy hostel called 'The Yosemite Bug' at the rim of the valley. It consisted of a few wooden houses in the forest and the dining room with its fire place was one of the cosiest places I could imaging although it was freezing cold during the nights.
I liked Yosemite so much that I decided to spend two more days there a few weeks later. That's what I appreciate on travelling alone with a rental car - you can decide on very short notice and do whatever you want.
Yosemite is now one of my 'Most Valuable Places' and I am sure that I will come back some day. I wrote a posting about two other of my MVPs in Germany a few months ago [
here...
] and [
here...
]. Completely different places but very similar in a kind of way.
By the way: Two famous rock climbers from Germany made a cinema movie about their attempt to speed-climb 'The Nose'. The movie is called 'Am Limit' ('To the Limi'). The documentary is full of amazing footage about El Capitan and Yosemite. Grab the DVD if you have the chance. I loved it.
Here is the [
trailer...
]