Do you remember Captain Horatio McAllister? The pirate captain from the Simpsons?
No?
Shame on you that you missed my
former posting
about this honorable guy.
While chatting with an ex-colleague back home via Skype he surfed Google Earth to look for the spot in San Francisco where I was staying. After a while he typed '
Hey there is a McAllister street in San Francisco. You really have to go there and take a photo of the street sign.
'
Should there really a street dedicated to the mascot and hero of my former team? Unbelievable.
Of course I walked there - very far and through kind of shabby neighbourhoods for shooting a photo of the street sign together with the portrait of McAllister.
Because I wasn't able to hold the chalkboard and take the photo I asked a random guy for help.
I am pretty sure he thought that I am completely nuts but finally he holded the pirate captain above his head.
Master Brownwood, this posting is dedicated to you (and a little bit to Dr. DICOM, of course.).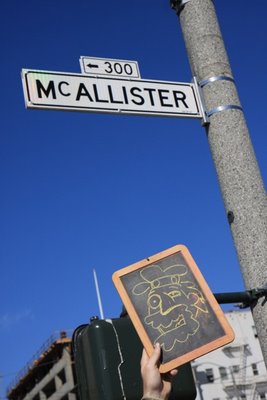 @Dr. DICOM: Feel free to add more facts about captain McAllister as comments to this posting.