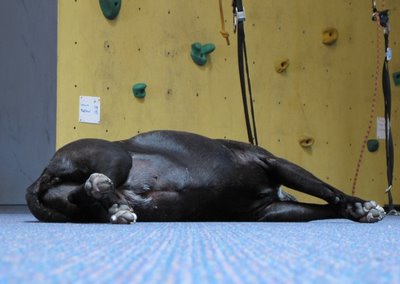 The photo is from a very busy dog lady securing an Indoor Climbing Hall attached to a Backpacker Hostel in a very small town also in New Zealand. For some reason the dog sensed that I took a photo of her and rolled on her back instantly rising all four legs into the air.
The owner of the climbing hall just said 'Oh, you have to scratch her belly now. That's the deal'.
So I did.
Recently a few friends back home asked me via email or Skype whether I'm already tired and exhausting from traveling.
It wouldn't be unlikely, would it? I am almost three months on the road right now and more or less in the middle of my trip.
Shouldn't I be tired from constantly changing places, from packing my backpack again and again, burnt out from the need to adopt to a new environment every day and from saying good bye to the cool guys I met one or two days before?
I don't know why but never felt that awake in my life.
The only thing I am tired of is living a tired life like being constantly on Valium pills.
The little one in the video is the son of the skipper of a small boat acting as a water taxi in New Zealand. Although the boy acted as the captain he obviously had a hard day and was barely able to stay awake. Almost every wave brought him in real trouble. I loved looking at him and you can even hear some of the passengers laughing because they observed him, too.
Seems as if being tired isn't bad all the time but I prefer to stay awake at the moment, though.