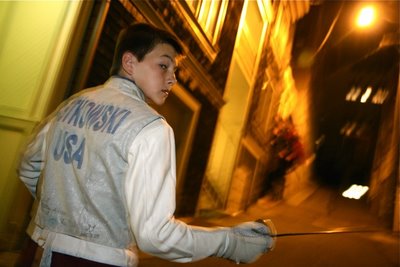 I was invited for dinner at the place of an ex-colleage. He lives in San Francisco with his family and gave me a wonderful private tour through his city showing me some of his favorite places. That is sightseeing at its best. Thanks again for the tour and the special vegetarian dinner.
I got to know his son and was really impressed by this kid.His great passion is fencing and after only five minutes of talking we both vanished into the garage because we wanted to check out his fencing gear. He explained me his equipment and his sport with great passion and I was even a bit jealous because he obviously found an activity he can be really dedicated to.Sometimes dedication leads to big things and in his case the big thing is a fencing jacket with his surname and the name of his country on the back - he is member of the USA Junior National Fencing Team. Wow.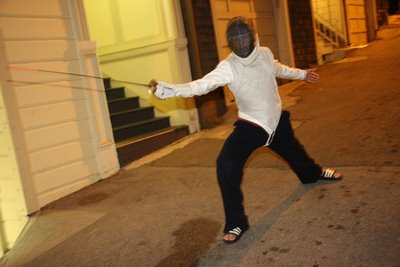 By the way: I learned that the best fencing gear by far comes from - guess what - Germany.
We ended up out in the dark street and he showed me the basic moves of fencing. For me it was a very special kind of street fighting.
Well, you could think that the guy is just one of these nerds that only live for their sport being drilled by their parents all day long.Far from that.This bloke had more interests than most adults, had a kind of talking and a vocabulary that outwits most of the conversations in business meetings and he gave me sightseeing tips to San Francisco that gave me the impression that he lives in his city with open eyes. Apart from that he was as funny and playful as a kid should be.

Of course I asked him for his word of the day using my little chalk board. He really thought a long time. It was not until I rephrased the question into 'What was your day about' that his eyes gleamed and he finally wrote his word.He told me that today he have had the chance to train with a guy that attended the last Olympic Games and guess what his big dream is...
If I should specify some requirements for an own son I would simply say 'just take this guy as a template'.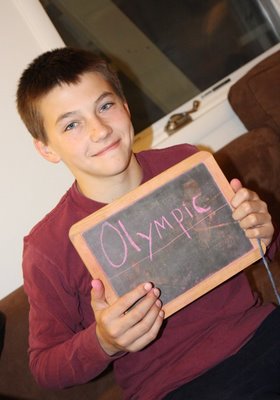 Hey Mr. I-have-a-jacket-with-my-country-on-the-back, if you make it to the tournament in Germany in 2009, drop me a note and I will be there as your biggest fan.