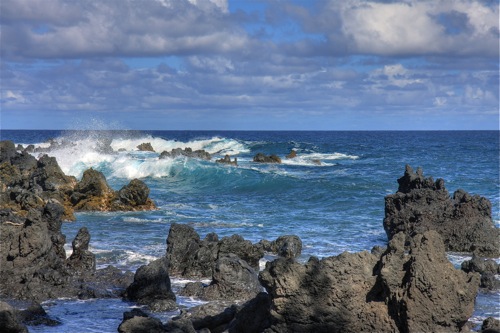 Click on photo for an enlarged version.
There is this one road on Maui connecting the main city
Kahului
with the sleepy village of Hana. I would call it THE road on Hawaii and I had a
brilliant
day driving it.
Imagine a 60 km road with 54 bridges and more than 600 curves, partly only one lane.
Put very thick rain forest, loads of small waterfalls, exotic flowers and a stunning coast line with lava rocks and palm trees beside the road and you have 'the road to Hana'.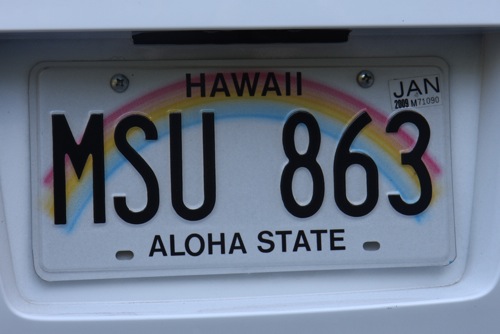 Click on photo for an enlarged version.
I had the huge advantage of having a rental car giving me the chance to be as slow as I wanted to be - and I WAS slow. I met a fellow traveler in my hostel with the same plan and
we
decided to spend the day together. She was from Germany and beside a whole bunch of deep (and funny) topics it was relaxing to talk German again for a whole day.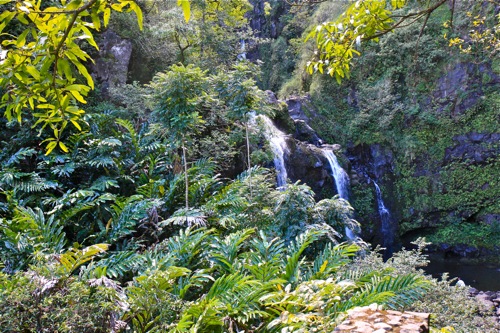 One of the many waterfalls beside the road
Click on photo for an enlarged version.
We passed bridges over small waterfalls every few kilometers and stopped frequently. One time I wanted to check a waterfall by getting closer and climbed above the railing of the bridge and down the pillar. After a short hike through thick banana plants on steep slippery ground I found a hidden natural pool at the base of the waterfall. A hidden secret place completely out of sight from the road. Wow! Well, to be honest I disturbed a couple doing some special relaxation stuff - hey, they were still dressed but I think it was close.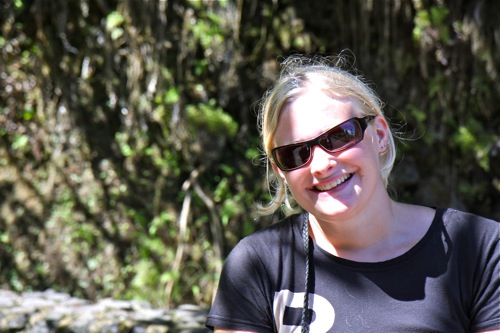 Johanna, my adventure partner on the road to Hana
Click on photo for an enlarged version.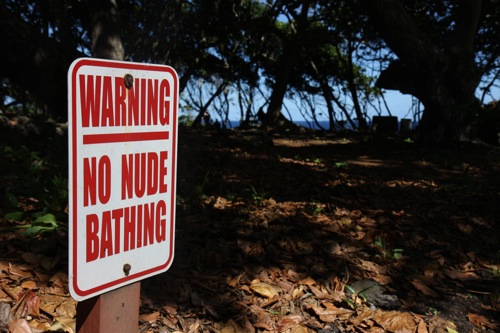 Don't even think about it!
Click on photo for an enlarged version.
It is always funny for me to see what kind of dangers exist in other countries. Sometimes it is about wild animals, sometimes about strong current and sometimes just about human skin.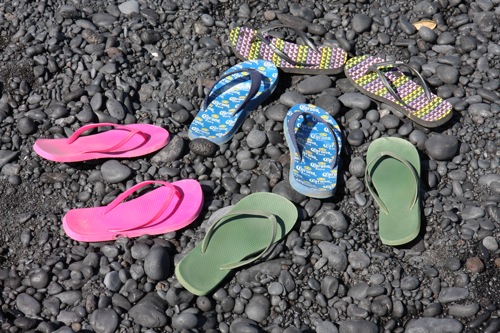 Maui - The place to be if you are a Flip Flop
Click on photo for an enlarged version.
Have you ever been washed away by the current? I haven't until that day. We stopped on a very small beach with black lava sand for a swim. The waves overthrew me as soon as I waded into the water to my knees. It literally took my breath away and I was completely exhausted after 10 minutes of fighting against the waves. Great!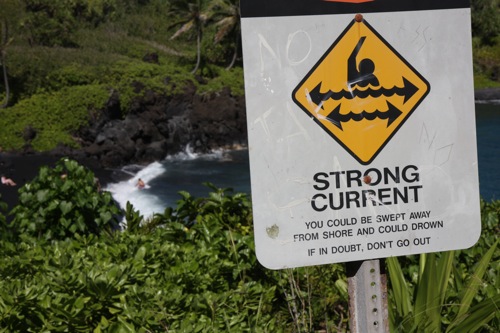 "If in doubt, don't go out"
Click on photo for an enlarged version.
During our day we listened to
Coldplay
and whenever I hear the song 'Lost' from their album 'Viva la Vida' now it beams me into the
rain forest
on the road to Hana.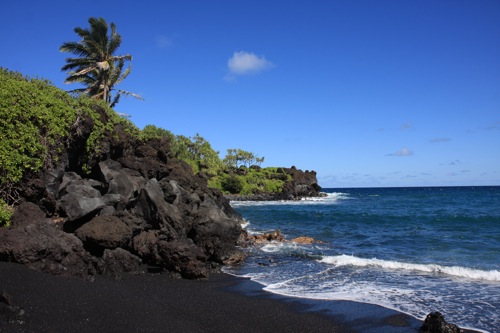 One of the

hundreds

of empty black lava sand beaches
Click on photo for an enlarged version.
As expected the actual arrival in Hana was very unspectacular. It was only a very sleepy place with only one restaurant. The funny waiter insisted of seating us although we were the only customers and all tables were empty. Funny friendly folks these Hawaiians.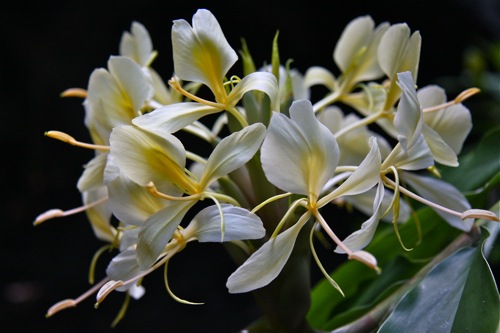 Some of the '

dunnothename

' wild flowers
Click on photo for an enlarged version.
Of course I bothered Johanna with tightening my
slack line
between two palm trees near a beach. It was so unreal to balance in these paradise-like environment with the sound of the shore and all the birds' voices in my ear and a wonderful sunset just behind me.
One more of the many many highlight of my trip.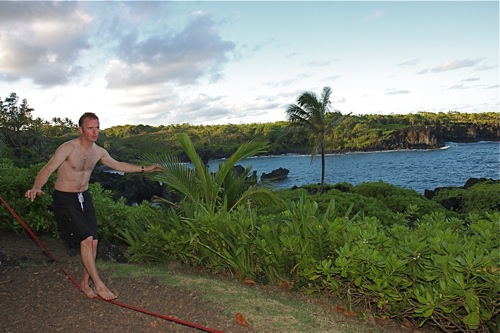 Hawaii

Slacklining
Click on photo for an enlarged version.
On our way back Johanna wanted to try a coconut and we stopped at a very small vending stall. Actually it was only a pile of coconuts and three guys sitting on a cooling box. The guys were really drunk because the cooling box was full of beer. They were so drunk that two guys destroyed two coconuts by mistake while trying to cut them open with a machete. I was a bit worried about their fingers and arms but in the end it worked and we had a funny talk with them while Johanna sipped her coconut (and didn't like it).
We arrived back in
Kahului
late at night and our conclusion was that this day was the perfect example that sometimes it is not about the destination but about the journey.