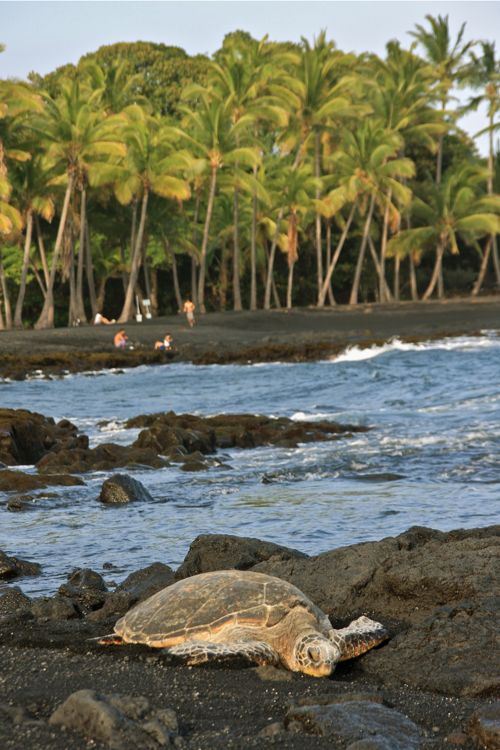 Click on photo to enlarge
You might wonder why I am writing about Hawaii and not mentioning the beaches or the sea all the time. Well, it turned out that the volcanic stuff fascinated me way more than the water.
Of course, the black beaches were impressive but I have to admit that I hung out at the beach only 2-3 times during my time on Hawaii because I spent so much time walking across fields of lave.
I stopped at a small beach one day to doze in the sun a bit and found a very special friend with the same plan right beside me.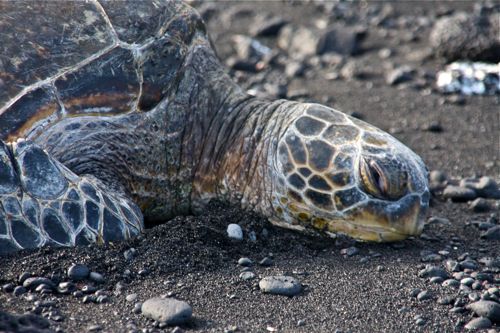 Hang-Loose-Turtle
Click on photo to enlarge
Isn't it unreal to sit under a palm tree watching the waves in front of you and a gigantic turtle "walks' by? After a few minutes I realized that the beach was full of them and that some kids were snorkeling with the wild turtles.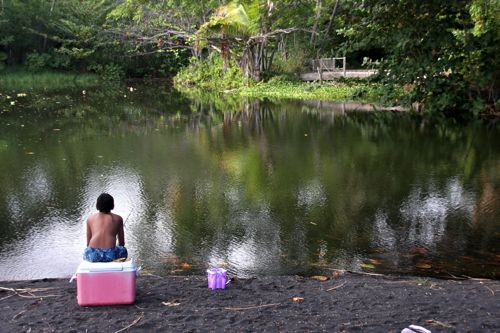 Click on photo to enlarge
The Hawaiian folks have a special relationship to water. It seems to be part of their daily life big deal. This relationship in combination with the relaxed attitude on Hawaii created a very laid back atmosphere.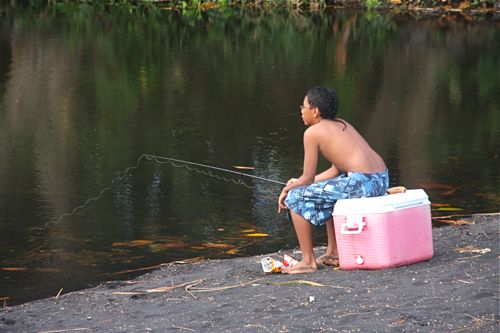 Click on photo to enlarge
I watched this little boy fishing in a small lake. He barely moved for a long time. Very very different to the kids in Germany. I wondered whether his mind was full of thoughts or whether he managed to make his head empty for a few minutes.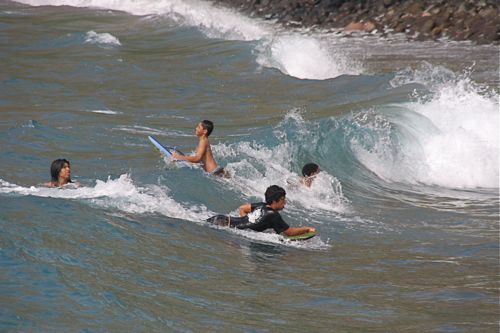 Click on photo to enlarge
Instead of playing Basketball or skating kids mastered all the wave-taming disciplines.
You could spot some boys bodyboarding on rocky beaches everywhere.
I tried to swim at one of the places and the result was that the big waves smashed me against the sharp stones immediately. I left the water with some nice cuts on my feet. Damn, the next day I wanted to do a long hike to the top of the Mauna Loa volcano.
Will the cuts prevent me from doing it? Stay tuned.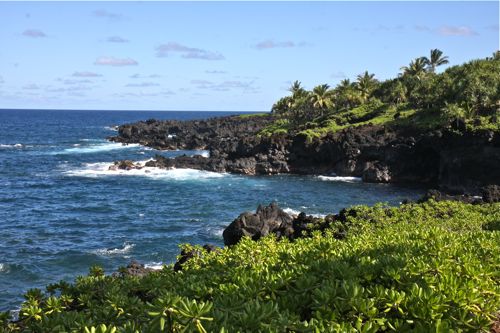 Click on photo to enlarge