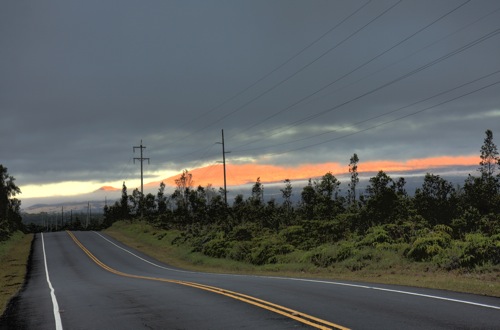 The red thing is no cloud but the Mauna Kea volcano illuminated by the very early morning sun. It looked so out-of-this-world so we had to stop and marvel the colors.
(Click on photo to enlarge)


A German girl named Heike from my hostel in Hilo was desperately looking for a companion for an advanced hike up the Mauna Loa volcano. All guide books stated that one shouldn't do that hike alone under any circumstances. Actually I felt it a bit above my personal limits but I agreed to join her because it was one of the reasons for my visit on Big Island.

We got up at 05:00 AM and drove up the Saddle Road to an Observatory where the track started. It was hard to find the spot because there was not a single sign. One more praise for the Lonely Planet and its descriptions.
Without the guide book we would have been lost.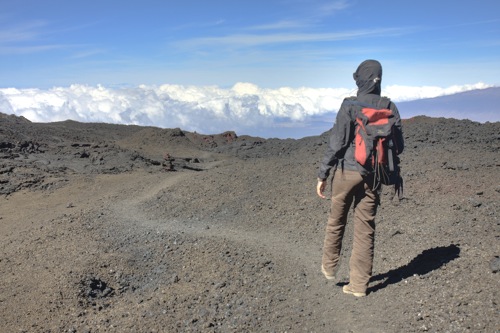 Heike walking very high above the clouds at roughly 4000m (13100 feet)
(Click on photo to enlarge)
Walking in thin air at 4000m on steep lava slopes isn't a common thing for me. It felt very adventurous and great - although very exhausting. The wind blew very hard up there and it was cold cold cold. Fortunately I wore literally all clothes I had with me - including my scarf from South Africa and my hat from Canada (I am a location-dropping brat, ain't I? ;-)).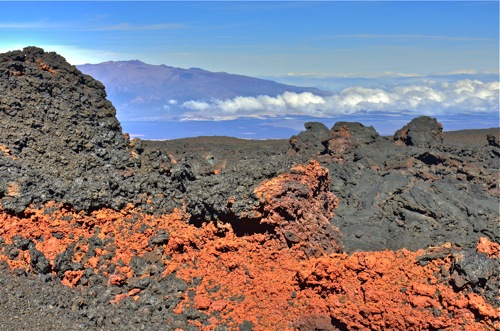 Lava Colors. The mountain in the back is the Mauna Kea volcano with the best observatories in the world.
(Click on photo to enlarge)
The landscape was more than unreal. The clouds were deep below us, the sky was very very blue and the ground consisted of many shades of red and grey.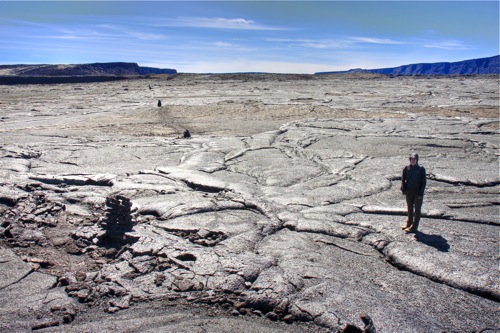 Bubble walk inside the crater on cold lava bubbles that erupted in the 1980s
(Click on photo to enlarge)

Finally we made it to the rim of the crater and climbed down for having lunch sheltered from the wind. The crater erupted in the 1980s and it felt a bit scary to walk on lava bubbles that very liquid stones just some decades ago.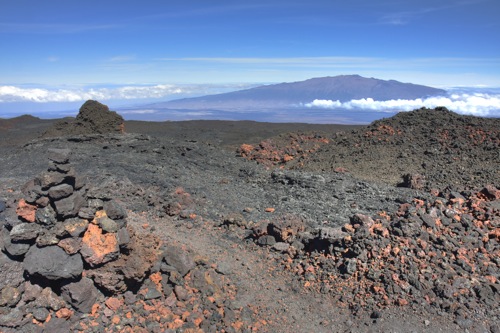 No human beings at all but us and the howling wind as soundtrack
(Click on photo to enlarge)


We saw only one single human being in the distance during the whole day. Complete loneliness at its best.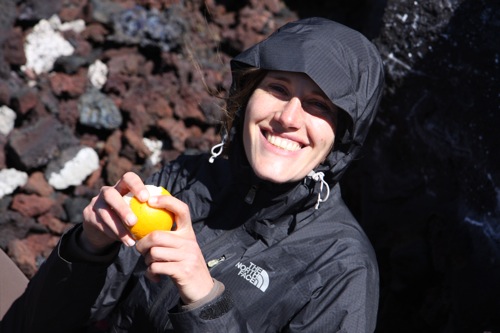 Heike having lunch inside the crater
(Click on photo to enlarge)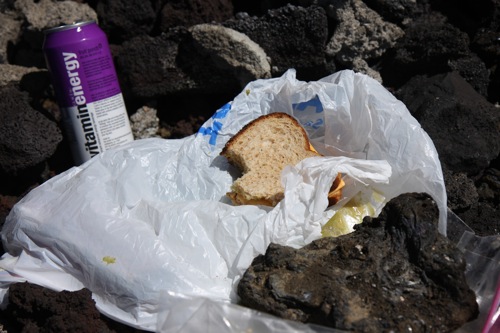 Volcano lunch with Vitamin Water, Toast, Avocado, cheese, tomatoes, onions and cookies. I was very proud about my talents as a chef.
(Click on photo to enlarge)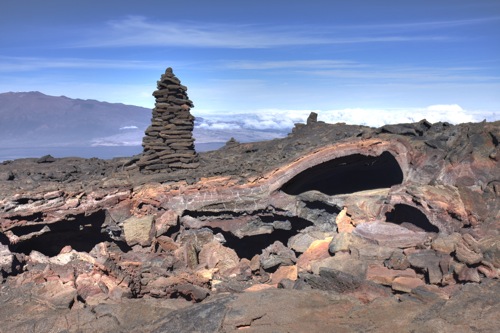 One of many lava bubbles. Sometimes one could even hear a hollow sound when walking on the lava indicating a lava tunnel below ones feet.
(Click on photo to enlarge)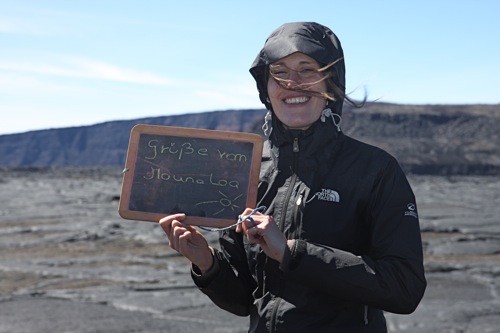 Heike sending digital chalk board postcards
(Click on photo to enlarge)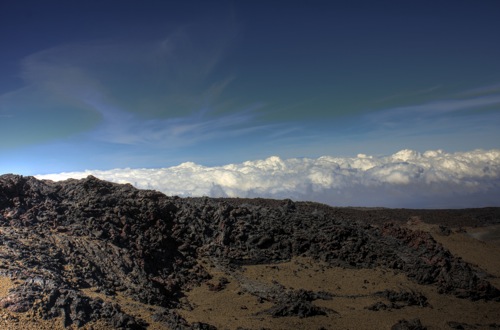 Back down into the clouds
(Click on photo to enlarge)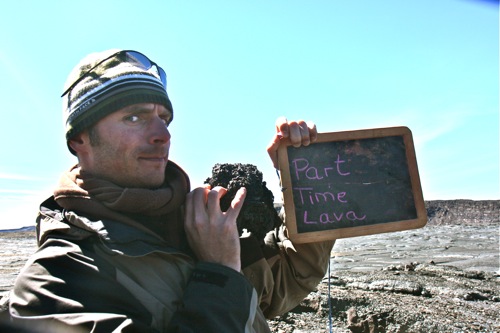 Part Time Lover Lava
(Click on photo to enlarge)


We
arrived back down at our car late at afternoon and I was really done. The perfect final chord of that brilliant day were the very strange glimpse of the hostel guests back in Hilo. First I didn't realize why they stare at us but then I got aware that we still wore scarf, hat and thick jackets. Stuff like that isn't that common in a beach city on Hawaii where the official attire consists of bikinis and Flip Flops.
Hey Heike, if you read this: Thank you for a great day!