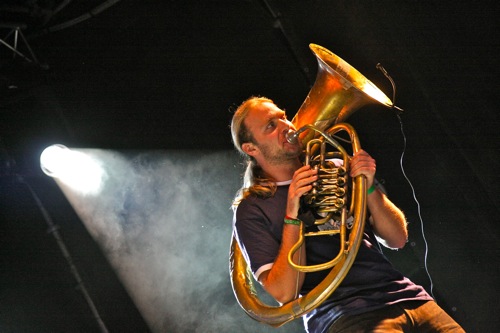 LaBrassBanda
(Click on photo to enlarge)


My annual music highlight in Nuremberg: The Bardentreffen (Gathering of the Bards). It is a free 3-day event with open air music all over the city.

This year there was a concert of my current favorite band from Bavaria. They are called LaBrassBanda and the music is a very strange mixture of traditional Bavarian brass folk music combined with gipsy beats, jazz, rock and Mariachi trumpets. Veeeeeery much to my satisfaction.
A funny detail about LaBrassBanda is that they drove from Bavaria to Vienna in Austria in 2008 with some old tractor and mopeds and made a amateur road movie out of it. Their goal was to visit the European Soccer Championship in Vienna. Check out the 5 parts of the video on YouTube.
I love these guys.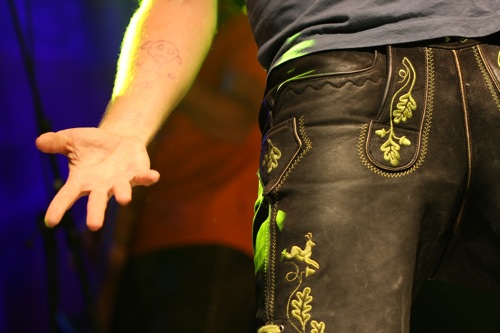 LaBrassBanda
(Click on photo to enlarge)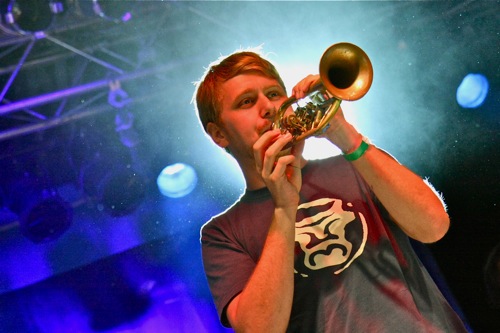 LaBrassBanda
(Click on photo to enlarge)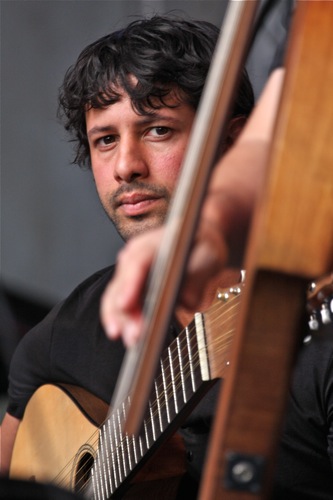 L'Alba from France
(Click on photo to enlarge)


The girlfriend of a co-worker plays in a guitar
duo called 'The Kinky Strings". They used the opportunity of the Bardentreffen to play on the streets in front of a friendly big crowd. Unfortunately I met the guys not until their last song. The great thing was that both of them were still in mood to make music. So we sat at the the riverside in the heart of Nuremberg with some friends and the Kinky Strings played a private concert for us until 2 AM in the morning. Very very relaxed.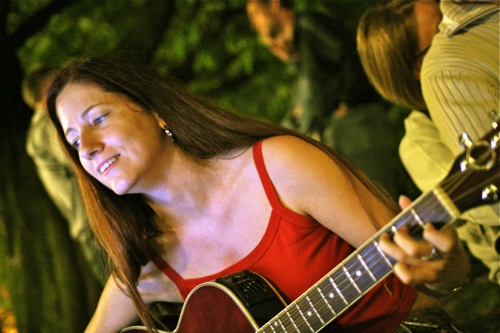 The female part of the duo 'Kinky Strings'
(Click on photo to enlarge)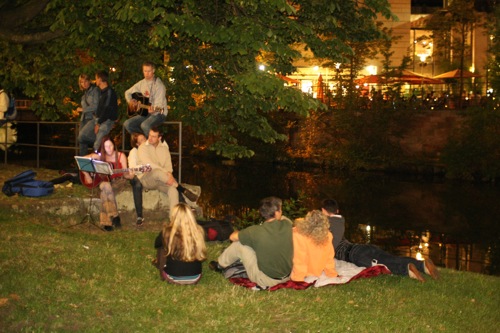 Private Concert after midnight on the Pegnitz river
(Click on photo to enlarge)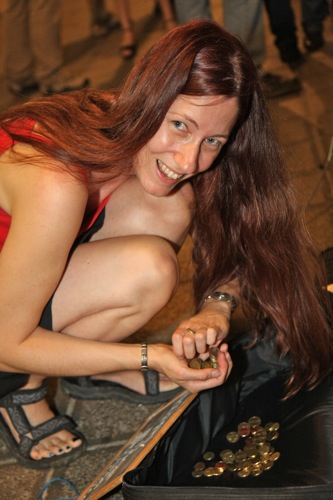 Money-fetch-girl
(Click on photo to enlarge)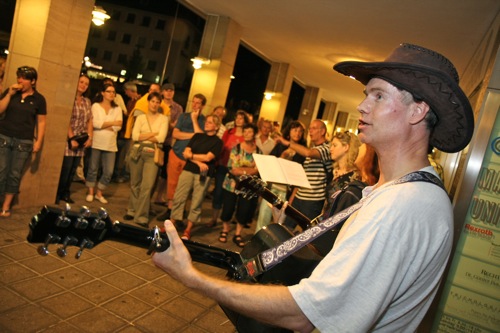 The male part of the 'Kinky Strings'
(Click on photo to enlarge)


The next day I met the Kinky Strings again for some more street music. This time I used my chalk board to help them to make more money. Well, at least I tried.
My strategy wasn't perfect in the beginning. I placed the chalk board in front of the guitar case they used for collecting money.
I started with the message

'Clapping is free'

- no earnings.
My next try was '

Sing along for 1 Euro

' - no earnings - damn.
My last try was '

Happy hour - listen to 2 songs, pay only 1

' - aaaand: two ladies donated some coins. I was delighted while realizing that marketing actually works. Well, the ladies would have probably donated anyway but I had a good feeling, though.

Thanks to the Kinky Strings for two great days of guitar music but next time I want 'Wish You Were Here' from Pink Floyd as well.