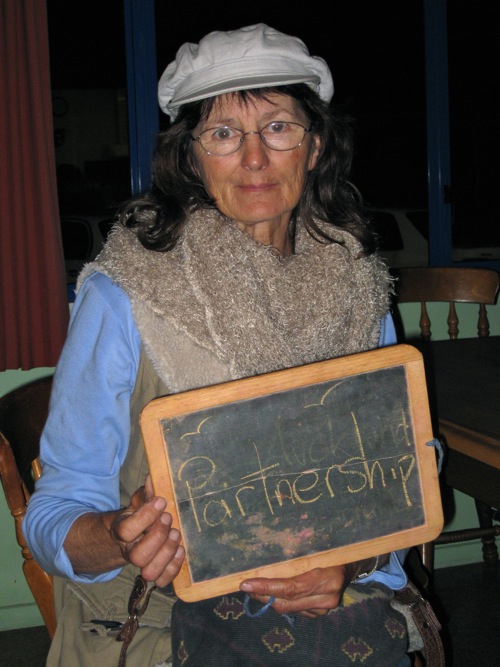 This time I want to tell you about a fascinating lady. I got to know her because I asked her to write down her favorite word of the day on my chalk board.
I met her in the small town Turangi on the North Island of New Zealand. She was staying in the same hostel and after having the dinner we prepared in the small kitchen we started talking.
The lady was born in New Zealand and lived there her whole life but she never stopped exploring her country. Her way of discovering the essence of her country was to hitchhike and to soak up the stories of the people that give her a lift.
She showed me a big book with hundreds of hand written pages. Notes she wrote while hitchhiking.
The lady had the gift of making her conversational partner open up within just a few minutes. According to her she asks the drivers whether she might write down some notes.
Surprisingly enough the drives agree almost every time and during long drives the strangers tell her their whole life - and she just listens and write it down.
Amazing, isn't it?
I didn't dare to ask whether I can read some chapters. In the end it wasn't necessary because she told me a few anonymized ones.
Her plan was to publish all the things she learned about her fellow Kiwis in a book and what she showed me was nothing less than the original script.
Imagine a book with the stories of strangers. A book full of ups and downs, full of cheerful moments and grief, stories about husbands and nephews and girlfriends and about the chances and obstacles that life dropped in their way.
I can't tell how inspiring this old lady was to me. Encounters like this one made my trip around the world so very very valuable for me. Actually the people I met were much more impressive that the wonderful landscapes I was lucky to see.
Unfortunately I didn't note her name and I don't know whether she managed to publish her book.
Oh, by the way: The word "Partnership" on the chalk board was the topic of our initial conversation. It was about people acting together instead of competing.