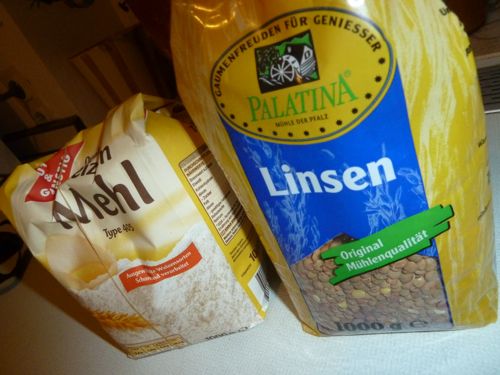 Yesterday was All Saints' Day.
Here in Bavaria this day goes hand in hand with a visit to the graves of loved ones. In some places it ends up in big crowds rushing around the cemeteries carefully paying attention in being noticed by the neighbors.
If those crowds master to remember the dead relatives simultaneously to fulfilling social conventions, it's fine for them. I don't like it for myself, though.
I would probably feel different if the gatherings would be more like the celebrations of Day of the Dead in Mexico.
Yesterday, more or less by coincidence I had the chance to remember my dead Granny in a slightly differeny way: With my nose and with my stomach.
For the first time ever my girlfriend and I prepared a dinner that is very closely related to my Grandmother. The dish is called "Linsen und Spatzen" and consists of lentils with spaetzle noodles. In the days of my Granny it was a poor mans dish because of the cheap ingredients.
I can exactly remember the smell of the lentils when I entered our house after school as a kid. It is one of the smells I really connect to a certain human being - my Grandmother preparing lunch.
Yesterday my kitchen smelled like my childhood days and the memory of my Granny and of some of her funny awkward mannerisms flashed my mind.
After a while I realized that it was All Saints' Day and that my lentil menu was nothing less than my very own homage dinner.
Although my Granny wasn't the best chef in the world (actually quite the contrary) my connection of lentils to her will probably last as long as I live.