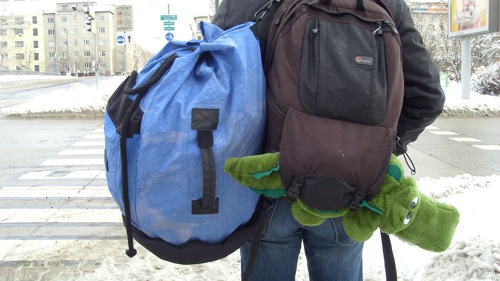 A Blue Bag, a Photo Rucksack and a Green Croc
Vienna for just one day? Why not.
My friend DD and I drove to Austria just for the sake of it. There was absolutely no plan what to do there and we enjoyed that fact very much.
Well, DD hat some kind of rough idea because he brought a huge blue bag full of stuffed animals. He got the stuff for free from a Second Hand Store in Germany. He didn't know what to exactly do with them but throwing the bag into the trunk of my car was at least a start.
He didn't tell me until arrival what's in the bag and when he showed the content to me in the morning in Vienna I was really excited. We decided to take the bag with us for our stroll through the city and see what happens.
We didn't have to wait long for the first encounter because we were struggling with a ticket vending machine for the subway because it wasn't accepting our bill. A girl stepped by to help us (BTW: not so likely back home in grumpy Franconia). She bought the tickets for us using her own coins after telling us some strange plan that included the exchange of tickets, coins, change and some sort of magic. Neither DD nor I are very good at math and we forced them to explain her strategy again and again. I am really bad in things like that and I always envy people at the supermarket checkout that hand over a random amount of coins the get just one bill back. In the end we gave up trying to understand and just trusted her. It was kind of a defeat for us boys but the was really way more clever than we.
Afterwards she just waved us good bye and walked away. DD and I just looked down at our blue bag, nodded and run after her. 
She chose a piglet, smiled broadly and disappeared. Good start.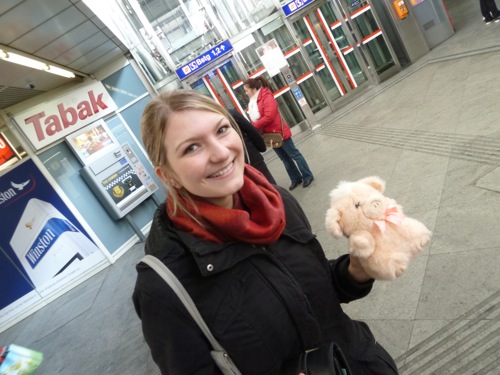 A Piglet in Exchange for some Ticket Vending Machine Help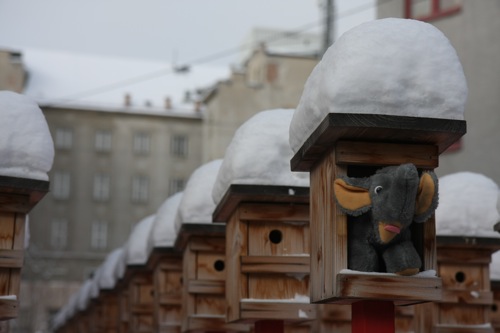 One Trunk and a Lot of Bird Houses
The Stephansdom cathedral is the center of Vienna and we thought about just giving the stuffed animals away to kids. After some discussion we came up with the idea to not give animals for free but to ask for a poem in exchange. DD said that no one will recite a poem in public to get a useless stuffed animal. In the end we decided to invest exactly 15 minutes to find out.  
My old chalk board was perfect for advertising saying "1 stuffed animal for 1 poem".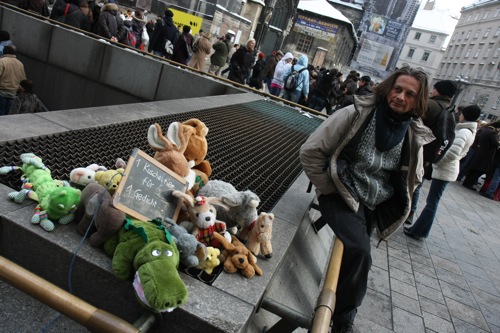 DD in Front of the Stephansdom
The pedestrian area in Vienna was full with street vendors so we didn't look like complete morons at the first glance - well, actually we did.
After a few minutes a group of tourists walked by and we just stopped a family from Croatia and told them about our "mission". The liked our idea but only their youngest daughter was brave enough to recite a poem in Croatian. I think she was really proud and I am sure that she will handle her new stuffed horse well.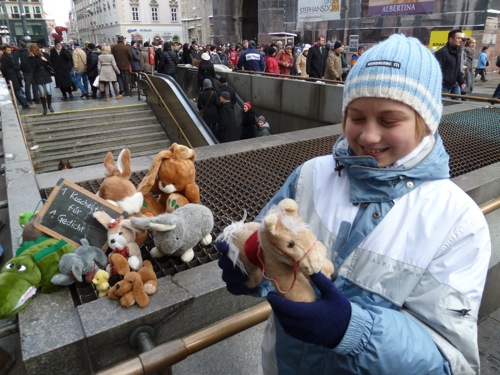 A Poem in Croatian for a Stuffed Horse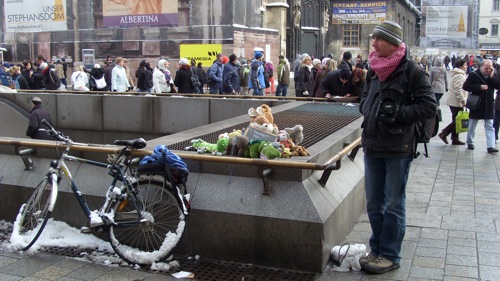 Waiting for Poem People.
An old man walked by, read our chalk board and smiled.
We: Excuse me, would you like to have a stuffed animal in exchange for a poem?
Man: I don't know poems at all but I like your idea.
We: Hey, you just looked like you already searched your mind for one. Right? Be honest.
Man: Well, you are right. But I really don't know a single poem.
We: What about if you go back to your childhood days?
Man: Wait, I know a blessing for house owners. It rhymes. Does that count as a poem?
We: Of course. Perfect.
Man: Gott beschütze dies Haus vor Sturm und Feuer, denn es war sehr teuer. *big grin*
(god save this house from storm and fire, because it was expensive)
We: Hey, cool. We knew you know one. Thank you. What animal do you want?
Man: I did it completely for free. Thank you for reminding me of the poem.
In the end it was 3 poems in 15 minutes and some more interesting talks with strangers.
A Poem about Storm and Fire - for Free
2008 I have been to Vienna for a business trip and we visited a nice little cafe. The waitress had every right to opt for an elephant for her good service.
DD Gives an Animal to the Waitress of the "Cafe der Provinz"

While DD was dealing with the waitress I was talking to a group of people. A girl gave me a very nice poem for two stuffed mice (I promised not to publish the photo) and a blond grown up girl impressed her boyfriend by standing up and reciting some chapters of the classic "Der Erlkönig" from Goethe in front of all guests in the cafe. Really cool.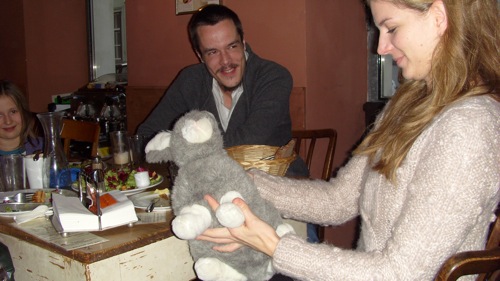 A Rabbit for a Goethe-Poem


The rest of the day was filled with a lot of kilometres walking around and in the afternoon I was really exhausted.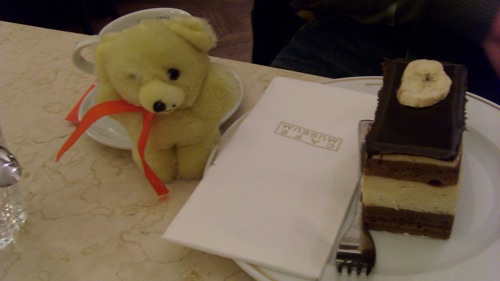 A Stopover in the famous "Cafe Museum"


In the end we still had approximately 20 animals left. Damn. After visiting the Secession building we sat them down for a public shooting and left a green worm.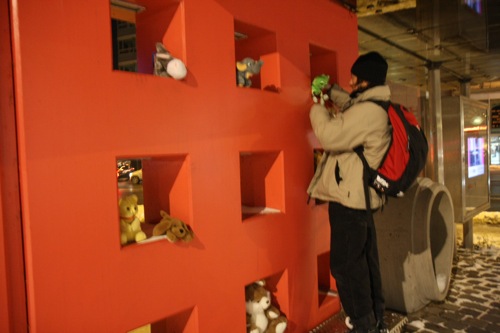 DD Prepares Our Public Shooting Near Secession
The highlight of the whole day was at the very end of it. On our way back we saw a mother with her two sons in a subway station. One of the boys was crying very loud. DD and I followed them, stopped them and opened the blue bag in front of the crying boy.
We told the mother that we just want to help healing the crying with a stuffed animal.
Well, the open bag stopped the crying immediately. The little boy checked all the animals very carefully and took the biggest one. He didn't look exactly happy afterwards but at least he had some trust again in general justice in the world.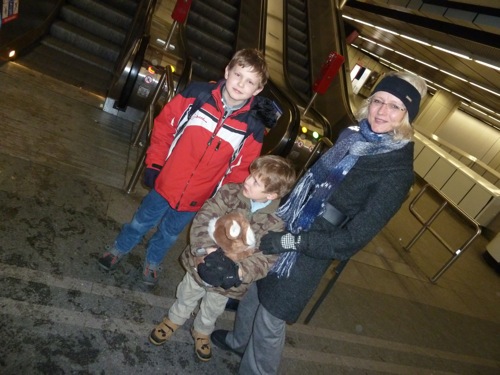 A Big Brown One Helps Healing
Summary? Hmm, a lot of talks to strangers, some happy faces, much more openess than I expected, tired feet and a cool tour with a friend in a cool city. Vienna rocks.
Don't ask me what happened to the rest of the stuffed animals. I guess they are living now in DD's apartment.